a:6:{s:69:"//inneractive.com/energy/files/2012/04/3itemgroup-auraBody-banner.jpg";i:779;s:77:"//inneractive.com/energy/files/2012/04/3itemgroup-auraBody-banner-300x135.jpg";i:779;s:98:"//media.inneractive.com/wp-content/uploads/sites/2/2012/04/01173329/3itemgroup-auraBody-banner.jpg";i:779;s:106:"//media.inneractive.com/wp-content/uploads/sites/2/2012/04/01173329/3itemgroup-auraBody-banner-300x135.jpg";i:779;s:59:"//inneractive.com/energy/files/2015/10/AVS7Pro-C920-AVC.jpg";s:4:"1900";s:88:"//media.inneractive.com/wp-content/uploads/sites/2/2015/10/01173255/AVS7Pro-C920-AVC.jpg";s:4:"1900";}
Aura Cameras, Software, & Aura Photography Equipment
Inneractive produces a variety of intelligent aura imaging machines. Our products will help you create visualizations of aura-chakra energy like never before!
The secret is in our advanced technology that combines hand reading sensors and data translation. It's complicated tech, but we design our products for easy accessibility and data manageability—making them perfect for metaphysical practitioners at wellness centers or educational institutions.
Inneractive is committed to expanding human potential, and with our Inneractive aura technology, you'll be pushing the boundaries of personal growth for your clients, your students, or even yourself.
Aura Camera and Aura Imaging
Aura reading machines are among Inneractive's most exciting technologies. Our aura reading machines are comprised of two elements: aura cameras and aura imaging software.
Aura cameras interpret aura-chakra energy by taking electronic readings of your hand.
Aura imaging software processes the data from the hand reading and translates it into visually-engaging graphs and charts.
Together, these two technologies give you or your clients the necessary tools to comprehend aura-chakra energy and chi-energy flow, so that you can chart out a path toward improved personal wellness. If you're a theosophical professional, you'll love the business benefits of our aura readers.
Explore our technology and products below.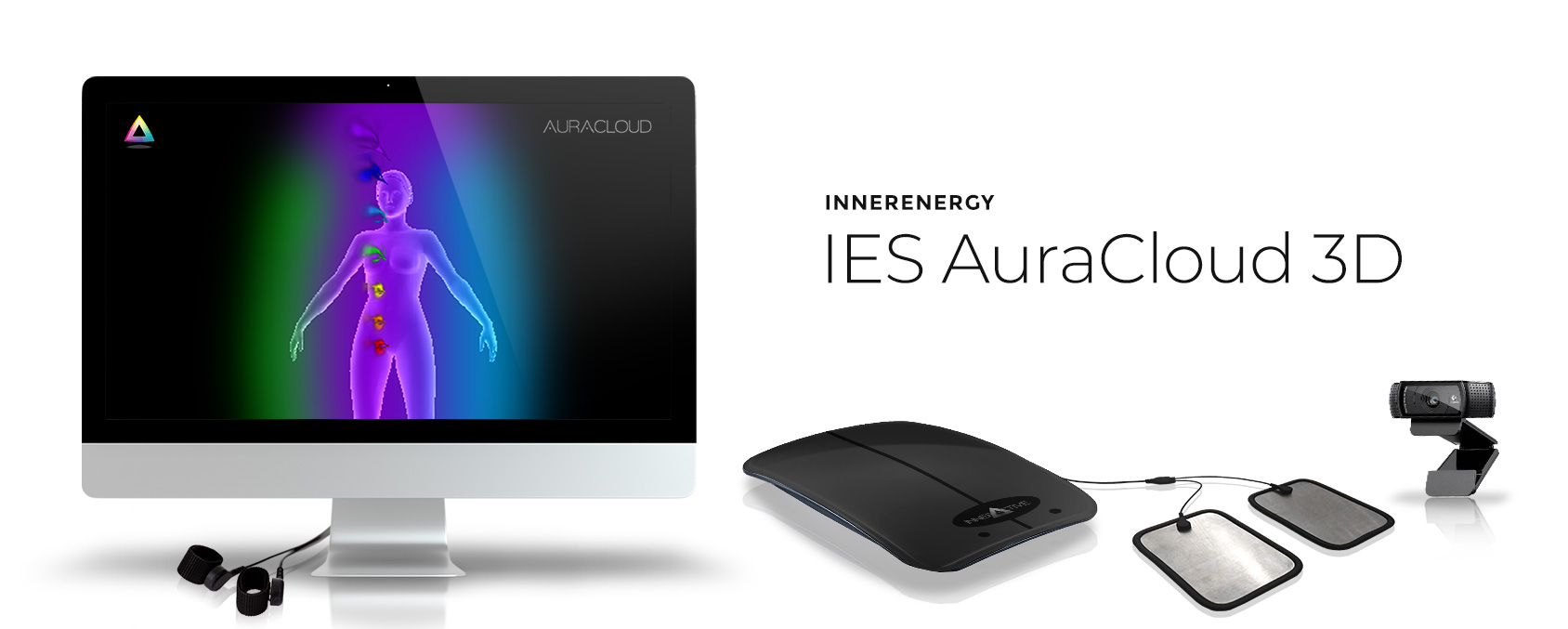 IES AuraCloud 3D
The IES AuraCloud 3D is the latest development in aura reading technology. We've enhanced our aura photography camera, and we've optimized our aura imaging software for use by metaphysical practitioners and wellness centers. New data management programs allow you to easily archive readings and organize client profiles.
We've also made enhancements to our aura imaging software, including new 3D visuals, simultaneous aura-chakra displays, and AuraCloud seamless software installation.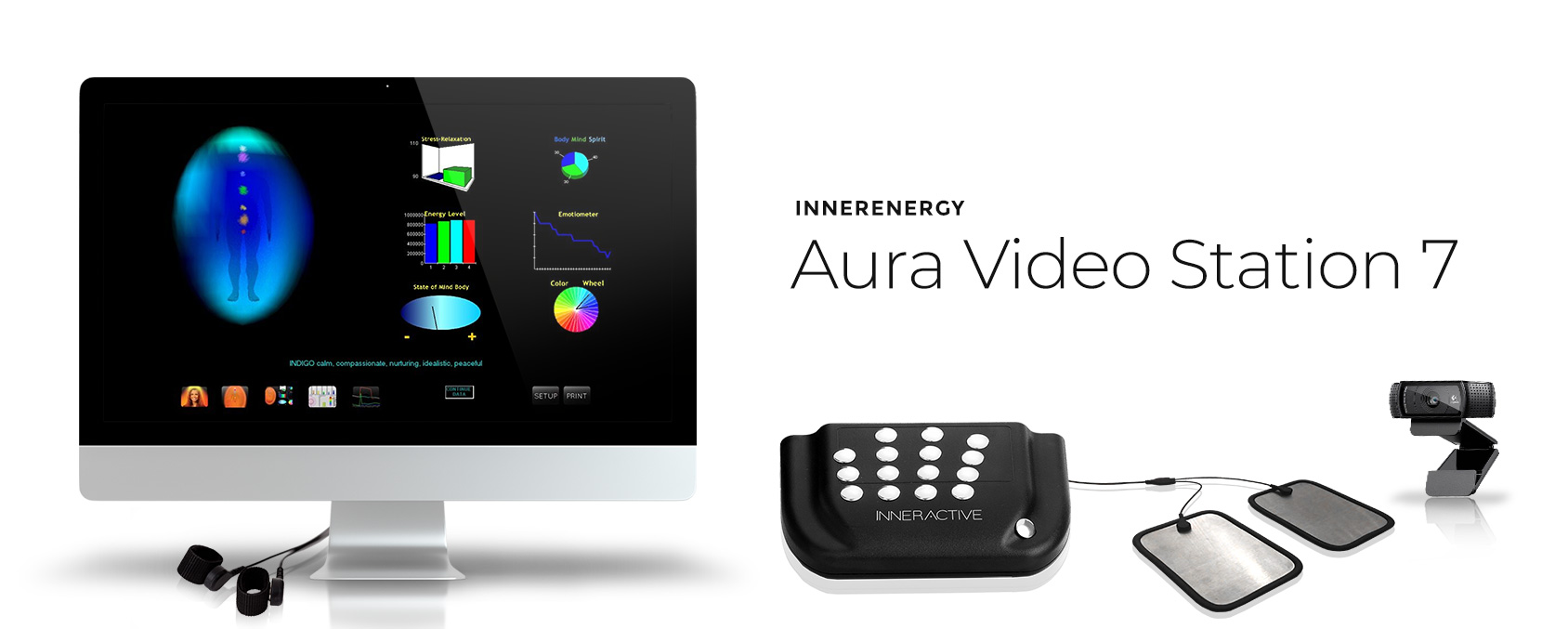 Aura Video Station 7
The Aura Video Station 7 is Inneractive's original aura reading system. It's available in two different packages: Aura Video Station 7 Pro or Basic. We're proud to offer this breakthrough in aura imaging technology to anyone walking a path toward greater self-knowledge.
Aura Camera and Aura Imaging Success
Our aura imaging camera systems may be a magnetic draw and have the potential to make great returns on your investment! Ask for a live demonstration and see for yourself. One of our specialized Aura Consultants will be available to screen-share demonstrations live online.
See it in Action
Contact us today to set up a live demonstration. A consultant will display the changes to auras and chakras in real-time and review the comprehensive aura imaging camera imaging, graphs and reporting.
Frequently Asked Questions
Is aura photography real?
Yes, aura photography is real. Aura camera technology is simply a human computer interface hardware and software PC system with a hand sensor and a web camera for its inputs and a PC monitor and printer for its outputs.
How is aura photography done?
Get the Right Equipment – Learn How to Use the Camera – Create the Right Setup for the Photograph If you follow the steps mentioned above, you're likely to get a great aura photograph for your client and provide a good aura reading.
Can I take a picture of my aura?
Yes, you can take a pitcture of your aura.The first step is knowing how to read your aura. By using an aura photo camera to see an individual's aura, you will help reduce reading aura mistakes as you will have a visual representation of what you are trying to see.
Which camera is best for aura photography?
Designed for the serious holistic health practitioner, the Aura Video Station 7 Pro can help you engage your clients with comprehensive aura readings in real-time and is considered to be the best camera for aura photography.